Dell Vostro 3750 laptop review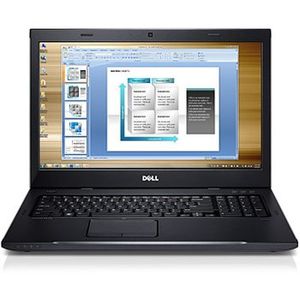 Dell's Vostro range is deliberately pitched at small business users on the go, but thanks to the new generation of Sandy Bridge CPUs, consumers into general entertainment will also find that several models function quite happily as entertainment centres too. The Vostro 3750, a 17.3in laptop that Dell envisages as a desktop replacement, is just such a machine.

Dell has clearly designed the Vostro 3750 to attract the metropolitan, world-travelling, style-conscious crowd. It comes in three striking shades of so-called Lucerne Red, Brisbane Bronze and Aberdeen Silver. It feels solid, too, as it's made principally of aluminium and tough plastic with sturdy metal hinges that negate the need for a locking clasp at the front - overall weight, however, is a hefty 3kg. Matt surfaces throughout ensure you avoid all those annoying fingerprint marks and the only time you'll deliberately use your thumb is for the discreet fingerprint reader on the right of the base unit.

Well connected

As you'd expect from a business-oriented laptop, there's no shortage of vital ports and slots, with no less than two USB 3.0, one USB 2.0, a combined USB 2.0/eSATA, an 8-in-1 card reader, HDMI, VGA, 34mm ExpressCard, Ethernet and an 8x DVD rewriter. An impressive 2-megapixel Full HD webcam provides excellent conferencing possibilities, and the supplied Dell Webcam Central software includes some amusing scenes and avatars to spice up your chat.

Because of the machine's generous width, Dell has been able to provide an 'island'-style backlit, spill-resistant keyboard complete with separate number pad - however it's a shame they found it necessary to squash the arrow keys by enlarging the right Shift key. Typing, on the other hand, is firm and comfortable and the large touchpad and mouse buttons below are equally smooth and responsive.

Switchable graphics

The backlit LED screen has a native resolution of 1600x900 pixels (so no Full HD, then) but its anti-glare properties mean it can be used outdoors without too much trouble. As for performance, the review unit we were supplied with was powered by an Intel Core i5-2410M CPU clocked at 2.30GHz, accompanied by 4GBof RAM - i3 and i7 versions of the laptop are available, and memory can be upgraded up to 8GB. The Vostro switchable graphics system automatically spots when you need to move from low-impact tasks using the Intel integrated graphics 3000 card to the high-performance NVIDIA GeForce GT 525M card.

As a result, you'll have no effort running spreadsheets, documents, Web pages and PowerPoint presentations simultaneously or pausing to play the odd first person shooter or the latest downloads from iTunes. Storage on the i5 model comes in at 500GB, although this can be expanded to 750GB - and there are three shortcut buttons above the keyboard for the Windows Mobility Centre, Dell Support Centre and Dell Instant launch Manager which are all self-evidently useful.

As you might anticipate with an intended desktop replacement, battery life won't be making the headlines as on flat-out usage testing via Battery Eater Pro we managed only around 90 minutes' life, although at minimal settings you could push this up to about 4 hours 45 minutes. The price, though, is attractive as i3 versions of the Vostro 3750 start around £370 ex VAT.

Verdict

Extremely smart but heavy, the 17.3" Dell Vostro 3750 laptop meets all the needs of the small business user with its bristling ports and slots, high performance CPU and switchable graphics technology plus practical support software.