Review of Dell Inspiron N5110
The latest generation of the Dell Inspiron 15R (the N5110) features Intel's "Sandy Bridge" Core processors and your choice of surprisingly powerful integrated graphics or AMD Radeon discrete graphics for gaming, all wrapped in a stylish notebook with a reasonable price tag. Keep reading to find out why the Inspiron 15R is one of Dell's best-selling laptops.

Our Dell Inspiron 15R (N5110) Specifications:

Intel Core i5-2410M processor (2.3GHz, 3MB cache, 2.9GHz Turbo Boost)
15.6-inch 1366x768 display with LED backlighting
Windows 7 Home Premium (64-bit)
6GB DDR3 memory (1333MHz)
500GB 5400rpm HDD
Intel HD integrated graphics
8X Tray Load CD/DVD Burner
10/100 Ethernet, 802.11n wireless, and Bluetooth
6-cell Li-ion 48WHr battery and 9-cell 90WHr battery
Dimensions: 14.7 x 9.6 x 1.2 inches
Weight: 5.84lbs

The starting price of the Inspiron 15R N5110 is only $499 at the time of this writing but that includes a slower Intel Core i3-2310M processor, less RAM, a smaller hard drive and only the standard 6-cell battery. The point here is that Dell offers a number of different configurations of the new Inspiron 15R.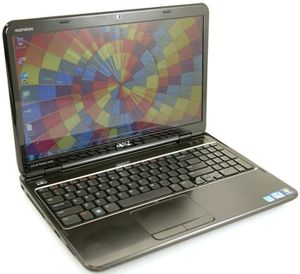 Build and Design

The updated Inspiron 15R N5110 features a number of design changes compared to last year's Inspiron 15R. The overall look is essentially unchanged with a clean and sleek exterior, but at its core the 15R remains a budget laptop with a mostly plastic construction. The new 15R uses a hinge-forward LCD lid design that Dell first used in the premium Adamo series. I'm sure Dell designers will say it's a way of reducing the size of the screen bezel with a 16:9 ratio widescreen display. However, as far as most people are concerned, it just means the back of the notebook sticks out more behind the screen.

Build quality is generally pretty strong for a mostly plastic notebook, but you'll notice some minor flexing in the plastics if you firmly squeeze the notebook in your hands or press hard on the keyboard while typing. The main chassis, while reasonably strong, has a "hollow" feeling which makes you think there is some unused space inside this black box. Speaking of black, that's the standard color for the Inspiron 15R. You can select an optional "Fire Red" or "Peacock Blue" for an extra $35 when you order your laptop from Dell, or you can choose a more artistic lid for an extra $60. Honestly, I feel like customers should be able to pick black, red, or blue at no additional cost and the artistic lids should be half their current price ... but that's just my opinion. At least with the new "SWITCHable Lids" you can buy a fancy screen lid at a later time if you want.

One additional (and probably unintentional) benefit of the new "SWITCHable Lids" is that the screen is slightly more protected from exterior pressure. The new screen cover offers moderately more protection for the LCD than the old 15R, which means ripples don't show up as easily on this screen if you press on the back of the lid.

Anyone looking to upgrade the RAM inside the Dell Inspiron 15R will find the process is very simple. There is only one access panel on the bottom of the notebook secured by a single Phillips head screw and some plastic retention tabs. Remove that one panel and you can add or replace to the system memory. Unfortunately, removing the hard drive requires almost a complete disassembly of the notebook chassis.

Ports and Features

When it comes to budget 15-inch laptops, Dell has a history of packing their notebooks with enough inputs and outputs to keep any tech enthusiast happy. The new N5110 is no exception. This Inspiron 15R features two USB 2.0 ports (one of which is an eSATA/USB combo port), two "Super Speed" USB 3.0 ports, HDMI and VGA-out, audio jacks, and Ethernet. It also featured a SDHC-card reader and a CD/DVD optical drive.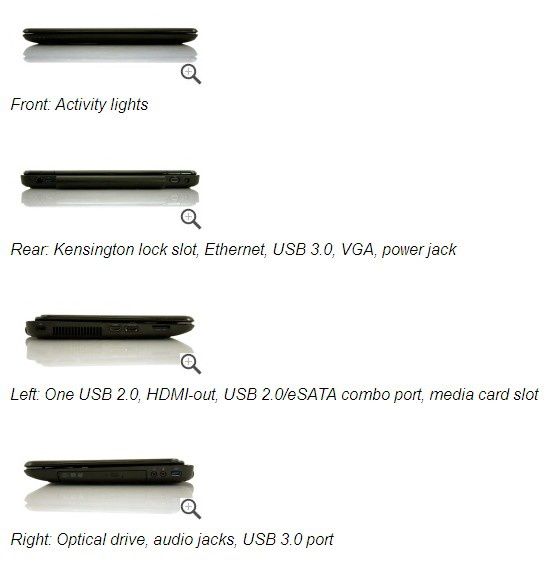 Dell Inspiron N5110 Keyboard and Touchpad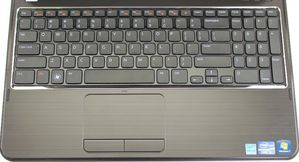 The keyboard on the Inspiron 15R is a very nice Chilet-style keyboard that feels a little like a traditional keyboard while typing. Each key has a slightly curved top similar to regular keyboard keys, but since this is a Chiclet or "island" keyboard you get a little extra space between the keys to help prevent typos. This design is comfortable to use but the condensed number pad feels slightly cramped next to the main keyboard. I honestly don't have any major complaints about the keyboard short of the lack of a backlit keyboard option.

The touchpad is a pretty large Synaptics model, which happily includes separate touchpad buttons rather than the poorly implemented integrated touchpad buttons we've seen on many recent notebook PCs. The response times of the touchpad are quite good with no obvious lag during quick cursor movements. The surface texture matches the finish on the palm rests and it is easy to glide your fingertips over the touchpad in a single, fluid movement. The touchpad supports multitouch gestures. The touchpad buttons offer somewhat deep feedback with slightly more travel than the short-throw buttons on the previous generation of the 15R.

Screen and Speakers

As the name suggests, the Inspiron 15R features a 15.6-inch display. The panel comes in only 1366x768 resolution with a glossy surface. The reflections aren't particularly bad compared to some of the all-glass "frameless" style screens on some notebooks, but you will certainly have trouble viewing the screen outdoors under direct sunlight. For a budget system the screen appears to be slightly above average with a strong backlight measuring a peak of 221nit with our Gossen Mavo-Monitor light meter. Screen contrast comes in at 141:1 with minimal backlight bleed around the edges of the screen. As with all TN panels, vertical viewing angles are good only out to about 15-20 degrees before colors started to sharply invert. Horizontal viewing angles are better, staying true to about 60 degrees off-center before reflections start to get in the way under normal lighting conditions.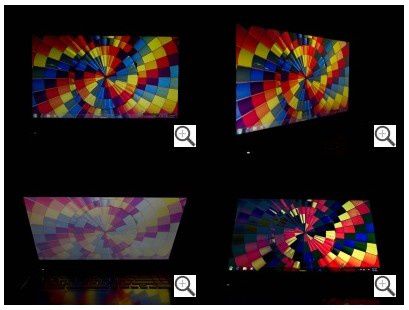 The speakers on the Inspiron 15R are located along the leading edge of the palmrest facing downward. This Dell has a "SRS Premium Sound" label under the screen which suggests that Dell has done some additional software tuning to try and improve the listening experience on this laptop. However, since the location of the speakers pushes sound forward and down rather than up toward the user, you'll likely find the audio playback sounds muffled when you use the 15R as a "laptop."
Performance and Benchmarks

The new N5110 version of the Inspiron 15R delivers an impressive increase in performance compared to previous models thanks to the use of the latest generation of Intel Core i3 and i5 processors as well as Intel HD graphics. Dell also offers the N5110 with optional AMD Radeon HD 6470M discrete graphics with 512MB of dedicated memory for those people who are interested in more serious gaming.

Our test configuration of the 15R performed quite well in our tests thanks to the Intel Core i5-2410M processor with a 2.3GHz default clock speed and a 2.9GHz Turbo Boost speed. The new Intel integrated graphics are much better than the graphics that Intel used in previous years and is a viable alternative for casual gaming as long as you understand that some games still have problems if they don't detect a compatible dedicated graphics card. General office productivity applications and multimedia tasks like streaming HD video online are no problem for the new 15R.

Heat and Noise

The Inspiron 15R handles the heat output from the CPU and graphics just fine, but you'll still find a few warm spots on the exterior of the notebook after serious multimedia or gaming use. Under the stress of constant benchmarks, the hottest spot that formed was an area on the bottom of the chassis that measured 94 degrees Fahrenheit. The highest temperature on the top was only 88 degrees Fahrenheit. Under normal web browsing conditions the notebook remains reasonably cool and only cycles the fan at a slow (and quiet) speed. Noise output even under the worst conditions was still barely enough to be noticed by the person seated at a neighboring desk in my office.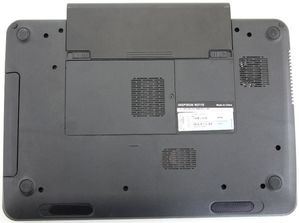 Battery Life

The Dell Inspiron 15R comes standard with a 48Wh 6-cell battery and an optional 9-cell 90WH battery is also offered if you need to use your notebook for extended periods of time away from a power outlet. In our tests with the screen brightness reduced to 70%, wireless active and refreshing a webpage ever 60 seconds, and Windows set to the Balanced profile, the new Inspiron 15R with 9-cell battery stayed on for 7 hours and 14 minutes. If the per-cell average is reasonably consistent then you should be able to get around five hours of battery life for "coffee shop web browsing" with the standard 6-cell battery.

Conclusion

The new and improved Inspiron 15R N5110 is an appealing 15.6-inch laptop for general use and multimedia tasks but also remains very budget friendly. The a base configuration priced at $499 might not be as impressive as the system we reviewed which is almost $400 more expensive, but even the less expensive model packs enough punch to more than satisfy the technology demands of a typical family.

If you need a notebook with a little extra muscle then the Intel Core i5 processor and optional AMD Radeon 6470M graphics should handle all but the most graphically intense modern games. I would have liked to see a backlit keyboard option as well as higher resolution screen options such as 1920 x 1080 or 1600 x 900 ... but those are pretty minor complaints for a budget notebook.