Dell Vostro 3350 laptop review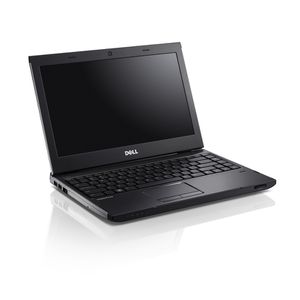 Going compact - and in the laptop world, that means anything below a 15.6in screen - usually means ditching performance and features, but Dell's Vostro 3350 promises to change all that. Borrowing a few design features from its rivals, it's a 13.3in laptop with some serious grunt under the hood - but is it all it's cracked up to be?

Core specifications

While it's true that the Vostro 3350 features a 13.3in 1366x768 display, it's a bit bulkier than you might expect. As well as an impressive thickness - which helps hold all the advanced hardware that Dell has opted to cram into the chassis - it includes a frankly gigantic bezel around the display. It's not distracting during general use, but it certainly adds a couple of inches to the laptop's footprint, and gives it a somewhat old-fashioned feel.

That's a shame, because the remainder of the specifications are bang up to date: an island-style keyboard features a three-mode - off, dim, bright - backlight which shines up through the keys for night-time typing, and a fingerprint sensor located at the right-hand side of the base locks the system against unauthorised intrusion.

Internally, the Vostro 3350 is pretty capable: our test model came equipped with Intel's quad-core Core i7-2620M processor running at an impressive 2.7GHz, 4GB of DDR3 system memory, a 500GB hard drive, and a dedicated AMD Radeon HD 6490M graphics card with 1.5GB of memory. An Intel Centrino 1030 chipset takes care of wireless networking, while Bluetooth and gigabit wired Ethernet are also included. A tray-loading multi-format DVD writer is a welcome bonus on the left-hand side - a rarity in a 13.3in laptop.

The extras

Dell has certainly pushed the boat out on the Vostro 3350. As well as the aforementioned hardware, the chassis includes more ports than you can shake a stick at: the right-hand side of the laptop packs an analogue VGA port, a digital HDMI port, a combined USB 2.0 and eSATA port, and sockets for headphones and a microphone. The left-hand side adds two USB 3.0 SuperSpeed ports - handily picked out in blue - and the gigabit Ethernet port, while a multi-format card reader can be found at the front.

The oversized bezel around the display also plays home to the webcam, which - if you're anything like us - will probably get used for the occasional Skype call and little else. To the rear of the laptop is the power socket, plus the high-capacity battery - which, sadly, makes the laptop feel a bit unwieldy in use. Sticking out from the base, it provides a comfortable tilt for easy typing when you have the Vostro on a desk, but we found it uncomfortable to use for extended periods of time.