The Dell Vostro 1320 is a 13.3" screen small business targeted laptop with a budget friendly price tag of $549 before promotions and discounts. The Vostro 1320 is a replacement for the older Vostro 1310 and features a professional and classy black glossy finish. We recently reviewed the larger 15.4" screen Vostro 1520 and, as you would expect, there's a lot that's similar between the Vostro 1320 and Vostro 1520 – the Vostro 1320 is just smaller and lighter. Because of the close similarity between these laptops you'll notice quite a bit of overlap in the reviews, but with differences stated obviously.

The Vostro 1320 is available in a multitude of configurations via Dell.com, processor configurations range from a 2.1GHz Core 2 Duo to speedy Core 2 Duo T9550 2.66GHz, optional Nvidia 9300 dedicated graphics, and fast SSD storage or a large 320GB 7200RPM standard hard drive. The Vostro 1320 is sold through Dell Small Business, but it is a laptop that could suit students or just about anyone looking for a durable and portable laptop at a reasonable price and with good support. The Vostro 1320 isn't as stylish as you might want for school, but if your concern is more for functionality over design then this will not concern you quite as much.
Specifications of Vostro 1320 Review Laptop
The Vostro 1320 comes in a wide variety of configurations, the one under review is a mid-range configuration in regard to component choices. Because of this the price was a reasonable $756:
Processor: Intel Core 2 Duo T6570 (2.0GHz, 2MB L2 Cache, 800MHz FSB)
Graphics: Intel Integrated Graphics Media Accelerator 4500MHD
Hard Drive Storage: 250GB 7200RPM SATA Hard Drive
Memory: 3GB Shared Dual Channel DDR2 SDRAM at 800MHz, 2 DIMM (1GB and 2GB sticks)
Screen: 13.3 inch WXGA Anti-Glare LED Display
Media: 8X DVD+/-RW with double-layer DVD+/-R write capability
Battery: 6-cell Lithium Ion Primary Battery
Wireless:

Dell

Wireless 1397 802.11b/g Mini Card
Ports: 4 USB 2.0, VGA out connector, Ethernet, Modem, 8-in-1 media card reader, 54mm ExpressCard slot, FireWire (IEEE 1394)
Weight: 4.75lbs
Dimensions:

Width: 12.48″ / 316.9mm
Height: 0.9″ / 23.8mm (front) – 1.46″ / 37.2mm (back)
Depth: 9.57″ / 243.2mm

OS: Windows Vista Home Premium
Below is a table comparing the Vostro 1320 weight to a few similar sized laptops:
| | |
| --- | --- |
| Notebook | Weight |
| Dell Vostro 1320 (13.3" screen, 6-cell battery) | 4.75 lbs |
| Dell XPS M1330 (13.3″ screen, 6-cell battery) | 4.41 lbs |
| Apple MacBook (13.3″ screen, 6-cell battery) | 5.1 lbs |
| Sony VAIO SZ (13.3″ screen, 4-cell battery) | 3.75 lbs |
| Dell Inspiron 1420 (14.1″ screen, 6-cell battery) | 5.5 lbs |
| HP Pavilion dv2500t (14.1″ screen, 6-cell battery) | 5.29 lbs |
| Lenovo ThinkPad T61 (14.1″ screen, 6-cell battery) | 5.1 lbs |
As you can see, the Vostro 1320 isn't breaking any records in terms of being light, but without the power cord it's under 5lbs and certainly easy enough to carry around in a backpack comfortably. When you include the power adapter and power cord the total travel weight is 5.63 lbs.
Dell Vostro 1320 Design and Looks
Dell Vostro 1320 top view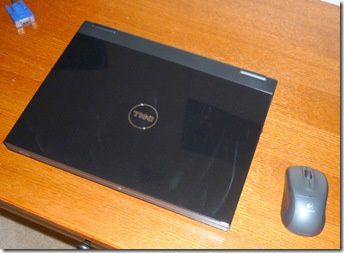 Above you can see the glossy finish of the Vostro 1320 lid is quite reflective, because of this glossy black finish the lid does tend to show dust and finger print marks. The glossy finish is quite prevalent on laptops today, so this is not an uncommon problem — if you're a clean freak and like your gadgets to look in tip top shape this characteristic might drive you crazy. It's recommended that you carry a micro fiber cloth with you so you can wipe down the lid now and again.

The Vostro 1320 is pretty plain in terms of looks, it's rather boxy having squared off edges and corners. The all black finish is professional yet dull, if you're looking for a stand issue business looking notebook the design certainly works. If you prefer a more cutting edge design with youthful and exciting looks, the Vostro 1320 will not push your buttons.

While the Vostro 1320 might not win any design awards, it's form factor is good, it's just the right size for portability being less than 5 lbs and under 1.5 inches thin with a 13.3" screen that is certainly large enough to provide for comfortable reading of web pages and Word documents.

The Vostro 1320 has a tray loading optical drive tray that pops out, in the previous Vostro 1310 the optical drive was slot loading. The slot loading drive was certainly more snazzy and followed in the Apple design approach, but in terms of functionality it did cause problems if a disk got stuck inside.

Along the top of the keyboard are touch sensitive button controls that work well and are responsive to the touch. The buttons light up after being pressed to show that your touch registered. The interior case has a matte finish, not glossy like the lid, so it's easy to keep looking clean.
Dell Vostro 1320 touch buttons along the top of the keyboard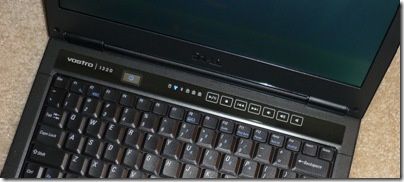 Dell Vostro 1320 underside view
Dell Vostro 1320 size comparison to 8.5" x 11" textbook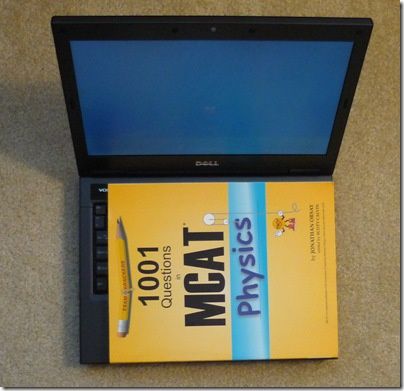 Build Quality
The durability of a laptop is one of its most important aspects, if a laptop is constructed of cheap plastics that easily breaks then you might pay a low price but it will be more prone to breaking. The Vostro 1320 has a case that is rigid with minimal flex, there's especially good support in the palm rest areas and the keyboard is sturdy with only minor flex on the right side. The bottom of the Vostro 1320 is also rigid so putting it in your backpack is safe as it is well protected. Overall I was impressed with the Vostro 1320 feel and build quality, the only area you could say had any level of flex is above the optical drive, and that's fairly typical of any laptop.
Ports and Features
The Vostro 1320 has a very good selection of ports and slots for a laptop of its size. Here's a rundown of all that you get in terms of slots and ports:
There are four USB ports, three on the right side, one on the left side all placed toward the back
FireWire on the left front side
Headphone and Microphone jack on the left side toward the front
54mm ExpressCard slot on the left side toward the front
Media card reader on the left side toward the front
Power jack located on the right side at the back
Ethernet / LAN port on the back left side
VGA port on the back left side
The only thing you can really say is missing from the port selection is a high-res display output such as HDMI or DVI. The Vostro 1320 has all you can really want for on the go use, you could purchase a port replicator for additional ports while at a desk. There is no docking station style solution offered for the Vostro series.
Other add-on features you can get for the Vostro 1320 include a built-in web camera and microphone, fingerprint reader, and Bluetooth wireless. I went ahead and got the web camera, it was a $40 upgrade at the time and with more and more people these days using video meetings I figured it could come in handy at some point even though I don't have any immediate uses. The Vostro 1320 came with a handy application called Webcam Center for using the built-in camera. The Webcam Center has some neat features such as remote monitoring that allows you to leave your computer running while you're away and send pictures intermittently to a remote website so you can see what's going on at home – always good for being able to monitor the family pet and for security purposes.
Front view of Vostro 1320: Power light indicator on front left side

Left view of Vostro 1320: One USB port, heat vent, FireWire, headphone, microphone, Media card reader, ExpressCard 54mm slot

Right view of Vostro 1320: Tray loading optical drive, Three USB Ports, power jack, wireless on/off switch

Back view of Vostro 1320: Battery, Monitor out port, Ethernet jack, power jack

There is no dedicated docking solution for the Vostro lineup, though you can get a USB based port replicator that attaches to a USB port if you want to add more ports (just as you can with any laptop).
Keyboard and Touchpad
The keyboard is full sized for the Vostro 1320, no finger cramping due to small keys or tight tolerance between keys. For a budget business notebook the keyboard is surprisingly good, it's quite firm with good tactile feedback from keys. There is a little bit of flexing on the right side of the keyboard above the optical drive, unless you're an aggressive typist it's unlikely to bother you too much.
The touch sensitive buttons for media controls look nice at the top, they're some of the more responsive touch sensitive buttons that I have used – I never had a problem with a touch not registering.
Worth mentioning is the fact the palm rests are also very firm, you can lean heavily on the palm rest areas and still not cause any sinking in the case. I saw a customer complaint regarding sharp edges of the Vostro 1320, I do not find this to be a problem however, the front of the Vostro 1320 is actually sloped a bit for comfort and it is made of plastic, not metal, so it's easier on the wrists.
The only minor complaint I can find regarding the keyboard is the fact the Page Up and Page Down keys seem flipped to me, intuitively the PgUp should be on the right and PgDn on the left.
The touchpad works ok, it is on the small side and is not as sensitive as I would like it to be. The mouse buttons are also on the small side but at least have a nice tactile feel providing good feedback. You can get an optional fingerprint reader for an extra $25. This can be used to login to both Windows and save logins for websites that you access, so saves on time.
Performance and Internal Components
Performance of course varies depending on the configuration you select at Dell.com. If you don't have demanding needs then the cheapest Core 2 Duo option will be enough power and offer the most power efficiency. The "slowest" current processor, the Intel T6570, is already 2.1GHz, so for most that will be the option to take and the one that I chose.
The Vostro lineup offers up to a 320GB hard drive, you know what you're storage needs are, so get what you need to store all the files you need when on the go. If you're more concerned about the speed of your system and money is no concern, the smaller capacity 128GB SSD will give you the fastest performance at the cost of an additional $400. If you configure your Vostro 1320 with an over 160GB HD then you automatically get a fast 7200RPM speed drive, which is also great in terms of performance and quite generous of Dell, most manufacturers will give you a 5400RPM drive and force extra payment for 7200RPM.
If you plan on playing games the Vostro 1320 might suit for some light gaming with older 3D based games, but neither the Intel 4500 or Nvidia 9300 will provide enough power to play the latest graphic demanding such as Grand Theft Auto 4. If gaming or graphics performance is of no concern, then go with the cheaper Intel integrated graphics option.
In terms of 3D performance, the 3DMark results of 640 should give you the idea that with the Intel 4500 integrated graphics you're not exactly going to be tearing things up in PhotoShop or GTA 4.
Obviously the more you pay for better internal components the better performance you will get, but for most tasks except gaming your average student will have ample power with this same configuration I got. If you're an engineering student and need a computer for CAD design you will also need to consider getting a laptop with a more powerful Open GL graphics options.
Screen
Dell gives only a couple of screen options to configure with the Vostro 1320. You can choose from the following options:
13.3″ Widescreen WXGA (1280 x 800) LED matte Display
13.3″ Widescreen WXGA (1280 x 800) LED Display with TrueLife
"TrueLife" means a glossy screen finish, some might prefer this as it does make colors look brighter, if you're in an office setting with bright lights it's not so great though because glossy screen equates to a lot of reflection of lights. Since most students aren't working in an office and will also use a laptop to double as an entertainment machine, glossy might be the way to go. If you work in a brightly lit office environment then go with the standard matte screen.
Unfortunately there are no higher-res screen options for the Vostro 1320, this is a shame, if there were a WXGA+ (1440 x 900) I would have picked that option and recommended it. Having a higher resolution screen on a smaller laptop really helps to overcome the limited real estate issue – the higher the res the more that fits on the screen. Still, WXGA is standard and what most people are used to, so it's not a major con.
The brightness of the Vostro 1320 screen is good, the LED screen is bright and thin in its profile. Horizontal viewing angles are decent, allowing you to see the screen quite clearly even when you're off to the side by up to 45 degrees. Vertical viewing angles are not so great, but so long as the screen is perpendicular to your line of sight, which is how 99% of people orient a laptop screen, then the colors and contrast will look just right.
Below are a couple of pictures taken head on of the Vostro 1320 screen at full brightness: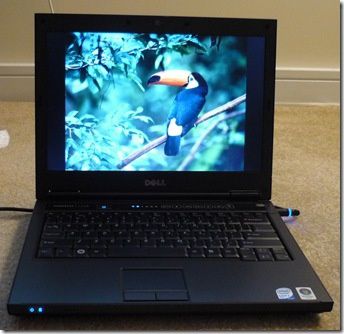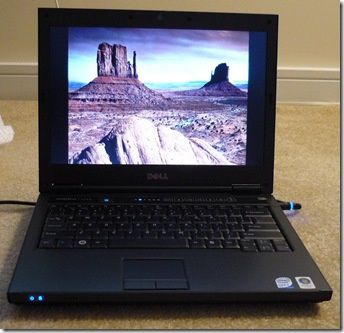 Speakers and Audio
The speaker for the Vostro 1320 is located on the bottom of the laptop, this is not well positioned and produces muffled audio that is quite terrible for listening to music.
Dell gives you the option of getting a light weight 4-cell battery, larger sized standard 6-cell battery or an extended life 9-cell battery. The 9-cell of course adds extra weight and will stick out a bit from the back. Under non-demanding usage with wireless on and screen brightness two notches below full I was able to get exactly 4 hours of life out of the 6-cell battery before the machine went into hibernate with 5% battery remaining. This is certainly acceptable and even what I'd call good battery life, though certainly not a home run. While working in a coffee shop and using the Vostro 1320 to do a lot of web surfing and also some software installation I ran the battery down to 37% full from 100% full in the space of 2 hours, so you could expect 3 hours of total battery under heavier usage. Unless you will need longer battery life for a marathon lecture the standard battery would seem to be just fine, especially if you're able to charge up between classes. If you were to get the 9-cell battery you could expect a 33% bump or so in battery life, so one would hope for about six hours in that case.
Heat
When using the larger sized Vostro 1520 I was disappointed with heat build-up on the left side of the palm rest area. You can view the Vostro 1520 review to see comments from other users that had a similar experience. Strangely, I had no such issue with the Vostro 1320 even though the internal components are aligned the same was as the Vostro 1520, just in a smaller chassis. In fact, heat build-up with the Vostro 1320 was entirely a non-issue, even after long periods of usage the laptop only got slightly warm – certainly not uncomfortably warm. It would definitely be ok to use the Vostro 1320 in your lap and still be comfortable.
Buying Advice
When buying through Dell Small Business there is no student discount such as is offered on the Inspiron and XPS line. Recently Dell has been offering more coupon codes on the Vostro lineup, so it's worth searching around for coupon codes before buying.
If you configure the Vostro 1320 to be over $1,200 it's probably worth considering an extended warranty to protect such a large investment. If you get a budget configuration skip the expense of an extended warranty. Also keep in mind that if you use an American Express card to make your purchase then American Express will automatically double your warranty with a max of one extra year coverage, effectively making your 1-year warranty a 2-year warranty or turning a 2-year warranty into a 3-year warranty — it certainly makes getting an Amex card worth it.

Conclusion
The Vostro 1320 is a great buy for the price. Although it's not exactly snazzy looking and far from the sleek look of an Apple MacBook Pro, it does offer good performance at a price tag of around $700 – $800 with a decent configuration. The Vostro 1320 is a great size for students or business people that need to be portable, the weight is under 5 lbs so it is easy to place in your backpack and carry around. The battery life of about 3 hours under normal to heavy usage is acceptable, you can always upgrade to a larger 9-cell battery or carry a spare battery in your backpack if you need more. If you keep an eye out for special deals and coupons on the Vostro 1320 you might be able to get it for a steal, if you can get it for a price of around $700 with the specs you want I would not hesitate to recommend this laptop.