Dell XPS 15 (L521x) with Intel's Ivy Bridge Specs and Pictures Emerge
Information on Dell's XPS 15 2012 update are beginning to emerge thanks to various leak sources on the web. The upcoming XPS 15 will carry the model number L521x and is expected to be released during the late April to early May time frame. The new model will of course have the latest Intel Ivy Bridge family of processors and also gets a design overhaul for 2012 that's quite obviously inspired by the recently released XPS 13 Ultrabook. The display will apparently be full HD (1920 x 1080 resolution) and have edge-to-edge Gorilla Glass and have a matte finish, again just like the XPS 13 Ultrabook. However, don't get too excited about that matte finish because in our findings the Gorilla Glass layer adds the same amount of reflectivity as a glossy screen, somewhat negating the benefits of the protection it adds.

In terms of design, the XPS 15 will have a matte black finish on the palm rest areas and around the keyboard area. The keys will be black and somewhat shiny. The lid and sides will have a silver aluminum finish and bottom the same carbon fiber finish as the XPS 13. The thickness will reportedly be only 0.95", which would be pretty incredible for a 15" performance laptop. The screen will be entirely covered with Gorilla Glass and have a thin bezel, giving it the old infinity look. Dell chose not to put a number pad on the l521x, again you'll need to move up to the larger XPS 17 to get that. The touchpad will apparently have integrated mouse buttons and be made of glass, Apple can once again be flattered by imitation there. Frankly we'd rather have dedicated mouse buttons, but that's passé apparently.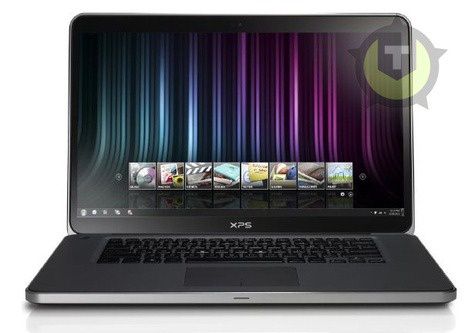 The XPS l512x graphics will be provided by an Nvidia GPU, likely the GT 630M for the base model and a more powerful Kepler based GT 640M with GDDR5 memory as an upgrade. You can see an analysis of Nvidia's latest 600M graphics card lineup we did last week. Apparently the fastest Nvidia cards will be reserved for the larger XPS 17 l721x or the Alienware gaming lineup.
At this point there's not much left that we don't know regarding the new XPS 15 except for the release date. So let's give a full run down of the specs on the XPS l521x and then speculate on release:
Processor options:

Intel Core i5-3210M dual-core
Intel Core i7-3612QM quad-core

Screen: 15.6" Full HD 1920 x 1080 matte finish, Gorilla Glass cover, 300 nits brightness
Memory: 2GB to 8GB RAM, 1333MHz and 1600MHz options
Graphics: Nvidia 630M or 640M with up to 2GB GDDR5 memory
Storage Options:

2.5" SATA2 500GB HDD 7200RPM
2.5" SATA2 750GB HDD 7200RPM
2.5" SATA2 1TB HDD 5400RPM
2.5" 7mm SATA3 SSD, up to 512GB
mSATA SATA3 miniCard SSD, 32GB up to 256GB

Battery: 9-cell 65WHr
Battery Life: up to 5 hours
Ports: USB 3.0, Mini DisplayPort, HDMI, Ethernet, Media

card

reader

Wireless

: Wi-Fi 802.11 b/g/n, Bluetooth 3.0
Optical Drive: DVD Burner or BluRay
Since Intel is to officially announce Ivy Bridge at the end of April, it's likely we'll see the new 2012 version of the XPS 15 around the late April to early May time frame. There's no direct word on the XPS 17 as of yet, but the assumption would be that around the same time an XPS L721x 17" version would be announced with similar configuration options.