Dell Vostro V131 Review: A Good, Cheap Business Laptop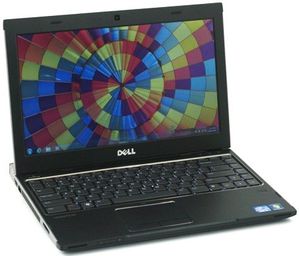 The 13.3-inch Dell Vostro V131 is a solid small-to-medium business notebook with exceptional battery life, a backlit keyboard, a business-friendly matte display, and plenty of power to handle any office productivity task you throw at it. Keep reading to find out if this is the right notebook to purchase for your office.

Build and Design

The Dell Vostro V131 has a clean, business-casual design wrapped in black surfaces and silver accents. The notebook is mostly encased in matte, but has a few glossy silver lines around the touchpad and keyboard. The lid is a bit more stylish; it's mostly silver and has a design that is close to glitter in appearance. There is a trademark Dell logo in the center, also glossy silver, and you can see the screen hinges on the lid.

It's one of the thinnest notebooks I've reviewed to date, at .63 of an inch thick if measuring the thickness from the front and .83 of an inch if measuring from the back. It's a bit thicker from the back because the battery is of a higher capacity and it sticks out; but that's OK, we'll take more battery life over a thinner form factor. Its full dimensions are 12.96 x 0.63 (F)-0.83 (B) x 9.36 inches and it weighs 4.03 pounds.

The build quality is about average for a small-to-medium business notebook, with a few weak spots. The chassis backbone is much more solid in some places than it is in others. For example, when the palmrests are pressed down upon, they hardly flex; when the keyboard is pressed down upon from the center it folds easily. The notebook also bends inward slightly when you twist the corners. Ripples form on the display when you bend the corners of the display; it seems cheaply made. In the end, the design is stylish and works for business purposes; while the build quality is average and lacking a harder structure, even if it is brushed with aluminum on the outside.

Users can reach the RAM and hard drive by removing one screw on the bottom panel and pushing the panel toward the back. That sounds easy in theory, but it took two of our editors and a lot of innovation to actually remove that panel (even though it has tiny springs that were supposed to help with its removal). We had to pry a credit card along the panel's crevice and press with so much force that we were afraid we might break something in the process. Although the memory and hard drive may be upgraded after removing it, since we were afraid of harming the laptop while we got to the hardware, we recommend purchasing the final hardware that you'd like to have rather than purchasing and installing it later. Up to 6GB of memory can be installed in total.

Ports and Features

The V131 has a very good array of ports. It not only has one USB 3.0 port, but two; it also has HDMI, an 8-in-1 card reader, one USB 2.0, and VGA. I would've liked to see another USB 2.0 port - or at least a docking station port so users could have the option of more. Other than that, some potential buyers might be put off by the lack of a SmartCard reader, but this notebook does have a fingerprint reader - so that might replace it in some terms, such as general notebook security. The notebook is also missing a DisplayPort - which may or may not be a big deal because it has VGA and HDMI instead.
Screen and Speakers

The Dell Vostro V131 has a 13.3-inch anti-glare (matte) 720p display (1366x768 resolution); higher resolutions are not available. While measuring it for its contrast, the peak luminance was 195 nits in the very center. Its backlighting is somewhat off; it's about 20 nits brighter in the center than in the bottom-right corner of the screen. The contrast rating ended up being a very low 126:1. The overall color of the display will appear very washed out.

Horizontal viewing angles are not good, and vertical viewing angles are no better than average. Images begin to invert after about 5 degrees off-center when tilted forward or backward and about 15 degrees off-center when the notebook is moved from the left or to the right. Honestly, the only thing we really like about the display is that it's matte; we believe non-reflective surfaces are required for business notebooks because most offices are brightly-lighted and glossy notebooks reflect that brightness easily.

The notebook has Conexant HD audio and two speakers, each located on the front of the notebook below each palmrest. The audio is surprisingly good for a business notebook. The notebook reaches very high levels and sounds good at medium levels as well; no distortion when turned up to 100 percent. We do have two complaints, though: the bass is almost non-existent (no subwoofer), and the speakers' locations are not conducive to sound traveling up and out the way it should. If you have it on your lap the audio would get muffled. Still, we're pleased with the audio, especially for it being a business notebook.

Keyboard and Touchpad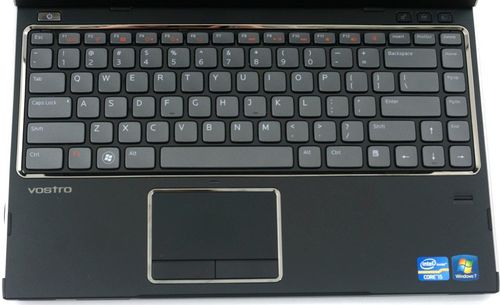 The keyboard is full-sized and has an attractive blue backlighting. The keys are flat and rounded off at the corners and feel smooth and soft to the touch while providing a comfortable typing experience. The keyboard also barely makes any noise while being used. At first, key travel seemed off because this notebook has a little more space between the keys than usual, but once you get the feel of it, the slight awkward feeling while typing goes away. We found the backlighting to be more than sufficient to use in order to see the keyboard better in a dark room or area.
This Synaptics Dell touchpad is everything a touchpad should be. It has a smooth surface that works very well even with moisture on the fingers, and is big enough that even people with large hands should have enough room to use it comfortably. It has two separate left and right mouse buttons instead of the integrated button design some manufacturers have adopted, as well as multi-gesture support.
Performance and Benchmarks

These specs are about average and on-point for most business notebooks that are being produced today in this class. The combination of a second-generation Intel dual-core CPU at around 2.0GHz and integrated Intel HD graphics are being seen everywhere at this price range (as is the slower 5400rpm hard drive). So, no surprises should be seen here in theory.

Our Dell Vostro review unit multi-tasks smoothly, running several webpages (including video), office productivity, Photoshop and several other programs at once. The Core i5-2410M dual-core processor is fast enough to handle a sufficient amount at once and the although 4GB of memory would have been plenty, 6GB surely doesn't hurt. The notebook can also play 720p and 1080p HD video content without any disruptions or problems, so it should be fine if you need to watch a webcast at work or some other video content. According to its CrystalDiskMark hard drive performance test, the notebook was able to reach about 86 MB/s read speed; which is not great, but also not terrible.
Battery Life

Our Dell Vostro V131 review unit provided excellent battery life. It has a 6-cell Li-ion 65 WHr, 11.1V battery and a 65W adapter. In our battery life test, we set Windows 7 to the "Balanced" power profile, reduced the display brightness to 70 percent, connected to a wireless network, and refreshed a web page every minute. The V131 was able to deliver 9 hours and 2 minutes; we were extremely pleased with this result, especially considering we didn't disable the backlighting on the keyboard. The good battery life is due to factors like the second-generation Intel dual-core processor and balanced power consumption; users can get even more hours if they turn the screen brightness down and turn on power saver mode.
Heat and Noise

The notebook does a great job of regulating its heat despite it only having one exhaust vent on the left side. When we exerted it, the highest temperature we measured with our IR thermometer was 94 degrees Fahrenheit; measured on the backside, in the bottom-right corner. The lowest temperature taken was 83 degrees. And, thanks to the brushed aluminum throughout the entire design, the notebook stays cool to the touch. The V131 is very silent, as well. We opened six YouTube videos, Word, three different browsers, and several other programs and hardly any sound came from the fans or vent.
Conclusion

We believe the Dell Vostro V131 makes for a great small-to-medium business notebook. Aside from its low contrast display, the V131 provides amazing battery life (nine hours), has good overall performance thanks to its internal hardware, and it has some useful features such as a backlit keyboard and a fingerprint reader. Dell also gives you 15 months of free Trend Micro security, even if you go with the $499 model. The notebook also has two fast USB 3.0 ports, a comfortable keyboard and touchpad, and the preferred 'office friendly' matte display for easier viewing in a bright office. Things to be aware of: it doesn't have a docking station port, and the lid of the display bends inward easily. This could make it a target for troubles while traveling or while being used for more than desk productivity.