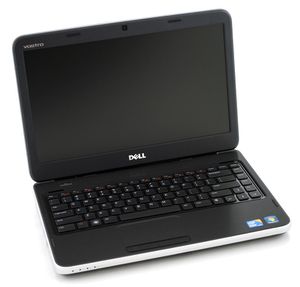 The Dell Vostro 1440 is a value line 14" screen laptop offering that features an Intel Core i3 processor and budget friendly starting price tag of $399. It's the cheapest offering in the Vostro lineup right now, but the build quality and overall features are perfectly adequate for many small business users that just need a computer to get on the web, use Office productivity software and of course email. The Vostro 1440 even comes ready for video chat thanks to the integrated web camera and microphone. The design is far from stunning, using an all black finish, but it's not ugly either and has some finishes I like that you can't find on any other laptop. The specific Vostro 1440 model under review was purchased for $440, using a 10% off coupon at the time of purchase, and came with the following specs:
Processor: Intel Core i3-370M Processor (2.4GHz, Dual Core/4 Threads, 3MB L3 Cache)
Memory: 2GB, DDR3, 1333MHz, 1 DIMM (upgraded to 6GB of RAM for review)
Storage: 320GB 5400RPM SATA Hard Drive
Screen: 14.0 inch LED Display (1366 x 768) with anti-glare
Battery: 6-Cell Lithium Ion Primary Battery
Wireless: 802.11 b/g/n/BT3.0 Networking Combo Card
Graphics: Intel HD Graphics
Color: London Slate
Optical Drive: 8X DVD+/-RW Dual Layer Drive
Ports: Network connector RJ45, VGA, HDMI, (3) USB 2.0, AC adapter connector, Headphone jack, Microphone jack, Audio jack, 3-in-1 card reader
Web Cam: Integrated HD Webcam and Digital Array Mic with Dell Webcam Central
Weight: 4.8lbs
Dimensions: 13.5" x 9.6" x 1.24" – 1.37" (Width x Depth x Thickness)
Dell Vostro 1440 Video Overview

If you prefer visuals to reading then check out the overview of the Vostro 1440 I did, it demonstrates the unique rubberized top quite well:
Delivery and Packaging

The Vostro 1440 ordered was classified as one of Dell's Ships Fast models that are shipped free the next business day. It was ordered on 12/5 and delivered to my door on 12/7, so you can expect delivery within a couple of days of the order date. FedEx was used as the carrier and the box arrived in good shape.
The laptop itself was secured well, it had cardboard braces inside to prevent it from getting bumped around. Inside the box was the laptop, power cord and adapter, manuals and battery.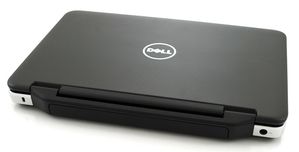 Dell Vostro 1440 Design & Build

The Vostro 1440 uses a color finish Dell call's "London Slate". Basically, that means it has a grey brush metal finish. Don't be confused by that statement though, the case is made of plastic as you would expect for a laptop in this price range. What's most interesting about the Vostro 1440 design finish is the lid, it has a rubberized ribbed finish lid that is excellent for gripping. This is a far cry better than the glossy smooth lids you sometimes find in consumer laptops that make them almost impossible to grip while holding. It's true that the lid with its ribbed rubber finish probably won't win design awards, but it fends off greasy fingerprints and makes it more easy to carry, so for the practical buyer these are good features to have.

The edges and corners of the laptop have a curved finish, avoiding any sharp edges that might cut or harm a user. It's also more pleasing aesthetically than a simple boxy square edge design. The sides of the Vostro 1440 are silver while the keyboard and lid area are all black. The palm rest area has a brushed metallic look to it, but the material is plastic. The keyboard uses a chiclet style design and has orange accented Fn keys so you can easily see what function each button performs. On the front side of the Vostro 1440 are indicator lights for such things as hard drive activity, power and wif-fi.

The build quality of the Vostro 1440 is above what you'd expect from a budget laptop. It has a spill resistant keyboard for one, which is rare at this price point. The overall strength of the case is good, the plastics are thick and the body is fairly free of flex.

Dell Vostro 1440 Performance

The Intel Core i3-370M processor offered in the Vostro 1440 is from the 1st generation of the Intel Core i3 line from 2010. This processor, though over a year old, is still fine for daily work tasks, you don't need the latest and greatest technology to get work done at the typical small business operation this laptop is intended for. The processor clock speed is a healthy 2.40GHz and is dual core so multi-tasking is not an issue. The hard drive tops out at 320GB, if you were planning on archiving hundreds of movie downloads on this laptop then think again. That said, for most business users the 320GB will suffice; word documents, images and even audio files are not space hungry creatures. The major weak spot of the Vostro 1440 is the graphics card, in the Windows Experience Index it only rates 3.8, which brings the entire system score down as the lowest component score shows up as the system score. Don't be frightened by the low number though, this laptop may not be a 3D graphics churning powerhouse, but it's not going to have a problem running multiple browser tabs, anti-virus, email, Office and a chat client all at the same time. Please note, I upgraded from the standard 2GB of RAM to 6GB and I would recommend anybody else do the same. Upgrading RAM involves removing the keyboard but it's easy to access the empty RAM slot once that is done.
Screen

The screen on the Vostro 1440 is a 14.0" LED backlit 1366 x 768 resolution variety. It has a matte finish which reduces the amount of reflection and glare, an essential feature for a business laptop and one that I like. The screen is nice and bright, but the viewing angles are quite poor. The colors tend to wash out quickly unless you're looking at it straight on perpendicular to your eyes. For instance, when looking at a Google search results page it was hard to tell paid ads at the top from organic search results because the yellow background on paid ads you typically see was washed out.

Built-in at the top of the screen is a 1.3 megapixel web camera. I used this for Skype and was quite surprised at the quality of video it offered, even in low light. The microphone on the other hand had some issues, at first I couldn't get it working with Skype and then after several minutes of playing around with software found that there was a lot of interference and feedback for whatever reason. Maybe Skype was just having a bad day, I don't know, but it might be wise to get an external headset just in case.

Dell Vostro 1440 Battery Life

The Vostro 1440 comes with a 6-cell battery, which you'd think would be adequate for a long amount of battery life, but in my usage it only managed to squeeze out between 3.5 – 4 hours of battery life when the screen was set to full brightness and surfing the Internet and typing up documents. You can certainly squeeze out more battery life by reducing the screen brightness and turning off wireless. In an optimal battery setting you might squeeze out up to 4.5 hours or so.
Dell Vostro 1440 Keyboard and Touchpad

The Vostro 1440 comes with a chiclet style keyboard, a common finish on everything from consumer to small business laptops these days. The keyboard is a comfortable size and key spacing is very good. However, the keyboard itself has a slight rattle and definitely does not feel as high quality as say a ThinkPad business laptop keyboard. The travel on the keys is quite shallow, this isn't an ultrabook so there's not much excuse for that.

The touchpad definitely has some issues, I found the cursor to be jumpy. One minute the cursor would be moving smoothly across the screen and the next it had jumped a few inches for no reason. The mouse buttons were actually quite nice to use, they had a good amount of travel and were always responsive.

Ports Selection

The Vostro 1440 has all the staple selection of ports you'll need and even includes HDMI, here is a visual tour around the sides of the Vostro 1440:
Vostro 1440 left side: Ethernet RJ-45 port, Monitor out port, HDMI, USB 2.0

Vostro 1440 front side: indicator lights on the left, media card reader slot on the front

Vostro 1440 right side: headphone jack, microphone jack, optical drive, 2 USB 2.0 ports

Vostro 1440 back side: just the power jack!

Ease of Upgrade

If you want to upgrade the RAM on the Vostro 1440 it's not a big deal, you just have to pry off the keyboard and then right underneath resides the memory slot bay: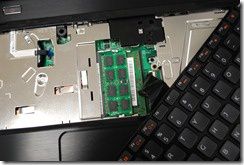 I had no issues upgrading from 2GB of RAM to 6GB of RAM by dropping in a 4GB module. If you want to upgrade the hard drive it's a different story. Accessing the hard drive seems to be nearly impossible without completely dismantling the laptop. Bottom line, I would configure it with the hard drive you want online and just accept you won't be upgrading it in the future.
Warranty & Support

The standard warranty for the Vostro 1440 is 1-year, other Dell Latitude notebooks have a standard 3-year warranty period but since this is a budget laptop such generousness is not bestowed upon the buyer. All the same, Dell Business has a good reputation for support so if anything goes wrong in the first year with the hardware you'll be treated well. If they can't fix your problem with remote tools you'll get next business day on site service, which is excellent support for a budget laptop. The upgrade to a 2-year basic warranty is only an extra $50 so that is an optional upgrade you might consider.

Conclusion

When evaluating a $400 laptop you have to realize a few things, it's not going to have the same build or design quality as a premium $1,000 machine, you can't compare this to say a Dell Latitude E6420 that costs more than twice as much. Nor will you get the latest and greatest processor for $400, but for a small business that's not involved in some type of high tech field this is just fine. Why would a small bakery need an Intel Core i7 processor equipped $2,000 laptop? Beats me, so if you're looking to save money the Vostro 1440 might be a good choice as you pay a low price but can still get it backed up by a strong business warranty. The caveats in buying the Vostro 1440 would be the poor touchpad, middling screen and not so great battery life. You can overcome the touchpad simply by using a mouse as many people do anyway. The battery life is a non-issue if you plan to be plugged in most of the time. The poor color gamut on the screen is definitely a no go for any type of design shop or business that needs accurate on screen color representation, but if that's not you then this issue could be overlooked. The screen is at least very bright, which is good. Overall for the $400 or so price tag the Vostro 1440 is a decent buy, you get a solid laptop that has some drawbacks but will still get the job done for many.
Pros
Competitively priced at around $400
Rubberized lid is great for easy of carrying and reducing fingerprints
Good warranty and support with reasonably priced upgrades
Adequate performance for small business needs
Web cam image quality is good in low light
Cons
Keyboard isn't the best and touchpad is finicky
Next to impossible to upgrade hard drive
Limited configuration options
Bland design
Bottom Line
The Vostro 1440 performance will be fine for most small businesses not looking for any design or performance frills and just want a laptop for basic tasks. If you go out to visit clients with a laptop in tow and looks matter then the frumpy Vostro 1440 won't cut it.