Dell Studio 17 (1747) Review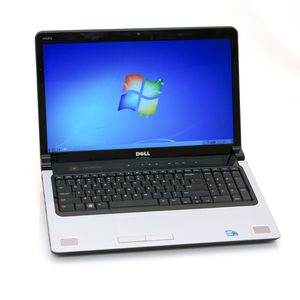 The Studio 17 is a 17-inch multimedia and gaming desktop-replacement notebook from Dell. This system can be configured with Intel Core i7 processors as well as high-end ATI Mobility Radeon graphics cards to compete against powerhouse systems like the Acer Aspire 8940G or Asus G51J. Dell has one trick up its sleeve with the Studio 17: it's the first large consumer notebook to offer an optional multitouch display.

Attentive readers might notice that we already reviewed the Dell Studio 17 last year. However, this isn't the same Studio 17. The system we're reviewing here is the new Studio 17 (1747) which uses a completely new chassis with 16:9 ratio widescreen display, new speakers, and support for the latest processors.
Build and Design

The Dell Studio 17 has a sleek wedge-shaped side profile that helps mask its large footprint. The sloped design reduces the thickness of the notebook, and if you don't count the bulging 9-cell battery, it is basically as tall as my ThinkPad T60 when closed. The red screen cover looks very nice and is also available in other colors if you custom configure the notebook. The painted cover has a great rubbery texture that gives the notebook a soft feel and helps to increase grip for your fingers. The inside of the Studio 17 is glossy plastic and a flush-mount color-matched touchpad. The palmrest trim is painted with a silver metallic finish with the trim directly surrounding the keyboard being glossy painted black plastic. Both finishes appear to resist light scratches, which is a godsend for glossy notebooks that need to be wiped down constantly to look clean and smudge-free.

The one Dell-specific design element that really bugs me is the battery design. I greatly prefer the method of extended-life batteries that extend out the back of the notebook. The lower-mounted method used with the Studio 17's battery prevents the notebook from sitting perfectly flush on your desk surface. The only problem with using a battery that extend out the back with this notebook is the hinge design which would interfere with extended batteries.
The chassis feels very strong and when the notebook is closed it feels stiff enough to stand on (though we don't recommend standing on it). Dell did an excellent job perfecting the solid frame and really nailed it with the precise fit of the body panels. Every panel is securely held in place with even gaps around mating surfaces. The panels themselves feel durable and resist flexing under moderate pressure. The only surface on the notebook that seems to have any flex is the keyboard tray that flexes slightly under strong pressure.

The bottom of the notebook has a clean appearance with a single access hatch to user-replaceable components. Users looking to upgrade the Studio 17 will find two hard drive bays, three mini-PCIe slots, two memory slots, and the BIOS battery. Our configuration left one hard drive bay open, as well as slots for a WWAN card and TV tuner card. The graphics card and processor were not accessible through the main access panel, so to change either of those would require further dismantling of the notebook. No "warranty void if removed" stickers were found anywhere inside or outside the computer.
Screen and Speakers

The 17.3-inch display on the Studio 17 looks above average with good color saturation and excellent contrast. Dell picked an in-between resolution of 1600x900 in this model, which is better than WXGA but still less than the 1080P displays that are standard on almost all competing models. With that said Dell does offer RGB-LED display upgrade options for this model where none of the competing models offer similar displays.
The standard display has good vertical viewing angles where colors don't start to invert significantly until the screen is tilted 15-20 degrees forward or back. Horizontal viewing angles are better with colors staying true to roughly 80 degrees in each direction. Backlight levels are pretty good in terms of even brightness and peak brightness. With the screen displaying an all-black background there is minimal bleed around the edges at normal brightness levels. As you increase past 80% the black levels start to appear washed out, but that is normal for bright panels. The backlight is strong enough to comfortable view the display in bright office conditions or outdoors if you find a spot of shade.
The Dell Studio 17 includes JBL stereo speakers with a bottom-firing subwoofer. The primary drivers are top-firing through the corners of the palmrest which is much preferred over lap-firing speakers which can sound muffled. In our tests the Studio 17 speakers rated well above average when playing both movies and music. Midrange and high notes came through clearly and the subwoofer added some bass which is usually lacking from many notebooks. Peak volume levels were above average and more than capable for filling a small or medium sized room with sound.
Dell Studio 1747 Keyboard and Touchpad

The keyboard on the Studio 17 is very nice and very comfortable to type on with such a massive palmrest. With the notebook sitting on the edge of a desk or on your lap your wrists are fully supported to your forearms. The soft rounded edge of the front of the notebook doesn't seem to cause any pressure points, which can be a problem with some notebooks. The keyboard layout takes full advantage of the massive surface area of the Studio 17. The keyboard is full-size with no condensed keys and it includes a four-key wide numberpad. The layout is Dell-standard with the function keys being secondary and the access keys being primary. To give you an example you can adjust the brightness directly by pressing F4 and F5, but to refresh a webpage you would need to click FN+F5. You can notice some flex of the keyboard under strong pressure but under normal typing it isn't that apparent. Individual key action is smooth with a very soft click emitted when each key is fully pressed. The configuration we reviewed doesn't offer a backlit but it can be included as a $25 option. After using the Studio 17 a few nights in front of my TV I really found myself wishing that the backlight came standard.
The touchpad is a very large Synaptics model with some multitouch support. Advanced gestures include two-finger scrolling, rotating, pinch zoom, and a three-fingered flick. Sensitivity is excellent with the touchpad picking up even the slightest touch without a problem. This did cause some problems if you barely brush your palm against the touchpad while moving the cursor towards a target. The touchpad would detect the second input and make the cursor freeze until you let off. No amount of adjusting the settings corrected this but with enough practice you learn to move your hand farther away from the touchpad boundaries. Touchpad speed is great with no discernable lag noticed even during quick movements. The surface texture is a light matte finish and very easy to slide your finger across dry or moist. The touchpad buttons are also very nice with a deep throw and a soft click when pressed.
Ports and Features

Port selection is very good even with no ports or slots added to the front or rear edge of the notebook. Dell included two USB ports, one eSATA/USB combo port, VGA, HDMI, and Displayport-out, LAN, two headphone jacks, audio-in, LAN, and finally a FireWire-400 port. Expansion slots include an ExpressCard/34 slot and SDHC-card reader. One additional port that wasn't used in our configuration is the antenna jack that connects to an internal TV-tuner. We did have one problem with the USB port layout; the right side has spacing far enough apart from each other to prevent you from using some dual-pronged cords.
The Dell Studio 17 includes an accelerometer to protect the hard drive in the event of a physical system crash. If it detects the notebook is dropped it will rapidly park the hard drive to help minimize damage. This is common in many business notebooks, but unlike every other implementation we have seen, this one was the first to cause problems. If you tilt the notebook too far in any direction it will directly alter the direction movement on the screen. We first noticed this during our testing phase when the notebook was resting on an elevated stand. If the Studio 17 is tilted forward dialog box selection will randomly switch back and forth. If you tilt the notebook to one side it will start moving the selection box up and down. To only way to correct this is to uninstall the ST Micro ScreenDection driver. This problem is also reported on the Dell Community forum.
Performance and Benchmarks

The Dell Studio 17 is no slouch with its Intel Core i7 720QM processor and ATI Mobility Radeon 4650 graphics. While playing Left 4 Dead at 1600x900 resolution with high settings we saw an average framerate of 60FPS, a max of 87FPS, and low of 38FPS. Even with hordes of zombies around the main characters the notebook never dropped below 30FPS. Although this system is more than capable of playing Left 4 Dead at high settings, it still fell behind the ASUS G51J and Acer 8940G which included better graphics cards. Since the Studio 17 is a notebook more focused on all around multimedia performance we didn't have a huge problem with this. The downside is users need to upgrade to the Alienware M17x or switch to the Studio XPS 16 to get better graphics cards options from Dell. Both alternatives have a much higher starting price - around $1,600- that could be hard to swallow if you are working on a smaller budget. HD video was not a problem for the Studio 17 with the 1.6GHz Core i7. The CPU never broke a sweat playing 720p and 1080p video with plenty of overhead room left for other activities.
Heat and Noise

Thermal performance of the Dell Studio 17 is above average when you consider that a single fan is handling the cooling for a quad-core processor and mid-range graphics card. Under normal use the case temperatures stay within very reasonable levels with few hot spots. Under stress some areas near the processor and touchpad warm up, but still not up to uncomfortable levels. Fan noise during all conditions is minimal, but it does get higher pitched and more frequent under load.
Battery Life

Our configuration of the Studio 17 included a 9-cell battery that helped squeeze out some impressive time from this Core i7-equipped notebook. In our battery test with the screen brightness set to 70%, wireless active, and Windows 7 on the balanced profile the notebook stayed on for 4 hours and 19 minutes. During the test the Studio 17 consumed between 17 to 19 watts of power.

Conclusion

The Dell Studio 17 performed very well as a multimedia-oriented desktop-replacement notebook. The system includes everything you might want, including great speakers, very nice screen options, a fast processor, and a very capable graphics card. Compared to the ASUS G51J or Acer 8940G which offer NVIDIA 260M and 250M cards respectively, the Studio 17 does fall behind in gaming performance with its lower performing ATI Mobility Radeon 4650. No other higher performing card can be configured with the Studio 17, meaning you would have to jump to the Studio XPS 16 or Alienware m17x which have much greater starting prices. Overall the Studio 17 blows away the competition in custom options -- including an optional RGB-LED backlit panel or touchscreen -- and it offers a very low entry price for its Core i7 configuration. Keep this system on your list if you plan on buying a 17" notebook anytime soon.