Dell Latitude E6320 Review: Strong and Capable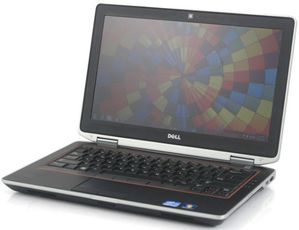 The Dell Latitude E6320 is a 13.3-inch business notebook with Dell's "Tri-Metal" build and a second-generation Intel Core i7 dual-core processor. Dell states that the combination of the E6320's lightweight design, build quality, and good battery life make this a travel-friendly choice for business professionals; we'll put that to the test in this review.

Build and Design

The Dell Latitude E6320 is built with what Dell calls Tri-Metal casing (MIL-STD 810G by military standards), a support structure that's considered business-rugged. In other words, it should give you the protection you need while traveling or from mishaps that can occur at work (such as a coffee spill). It's made up of anodized aluminum in the display, a hard powder-coated base, reinforced magnesium alloy wrapped around the corners, and reinforced steel hinges. It also has a spill-resistant keyboard, protective LCD seal known as a "360-degree bumper" overlay for added screen protection. Dell states that the notebook protects against extreme high and low temperatures, vibrations, dust, and high altitudes. At the time of this writing, Dell also includes a 3-year limited on-site service at no extra cost.
The notebook is as solid as Dell suggests. The palm rest doesn't flex at all, even under heavy pressure. When I pressed down hard on the keyboard, it flexed somewhat, but not considerably. The aluminum in the display back is also solid and ripples didn't appear on the screen when the corners were bent inward; however, they do appear if you press anywhere on the screen bezel below the display. This is a sturdy notebook, especially since you can purchase it for as low as $970.

Style-wise, it's very professional without looking bland. The entire notebook is dark gray or soft black, and there are neat orange accents across the keyboard. The activity lights are placed on the left side of the notebook and the Latitude line name is carved in metal below the keys.
The Latitude E6320 is about average when it comes to upgrading as far as business notebooks go. After removing some particuarly hard to remove screws, you can open the base cover to access the memory, wireless network card, and hard drive. The hard drive is protected by four additonal screws you'll have to remove if you want to get to it. The notebook can hold up to 8GB of RAM.

Ports and Features

The port selection on the E6320 is missing a few key components. For starters, it only has two USB 2.0 ports. Even though you can purchase a docking station (there's a connector at the bottom), users shouldn't feel the need to; the machine should've come with three or more. Not to mention they're version 2.0 instead of the faster 3.0. It's also worth noting that it only has a mini HDMI to HDMI/DVI port instead of the standard HDMI port for connecting it up to an HDTV. Other than those things, the port selection is pretty standard for a business notebook, with a SmartCard Reader, VGA port, 34mm ExpressCard slot, and an SD memory card reader. The optional ports are the SmartCard reader, mini HDMI, and the optical drive type.
Screen and Speakers

The E6320 has a 13.3-inch anti-glare 720p (1366x768) display with a wide screen bezel. The contrast on the display is very low; we measured an average luminance of 185 nits and an average darkness rating of 1.25 nits, so the contrast only comes in at 148:1. The combination of a lower resolution screen and a low contrast is very underwhelming. At this price point, we expected to see a better display; but it being a business notebook, the display got overlooked. Colors invert very quickly when the screen is moved up or down and when moved from side to side as well. On the upside, the display is anti-glare, so using it in a bright office setting won't cause the display to be very reflective of the light. The display can also be bent all the way back, until the notebook is laying flat while open; a great design feature.
The E6320 has IDT high definition audio and two small speakers located on the front side of the notebook. Surprisingly, the audio reaches generally good highs and lows; it definitely gets high enough to be heard across a good-sized meeting/presentation room. The audio does sound somewhat muffled, probably due to a mix of factors. The location of the speakers doesn't help with the audio placement, but overall, the audio is above average for a business laptop. Of course there is no subwoofer though, so hearing bass will be a problem.
Keyboard and Touchpad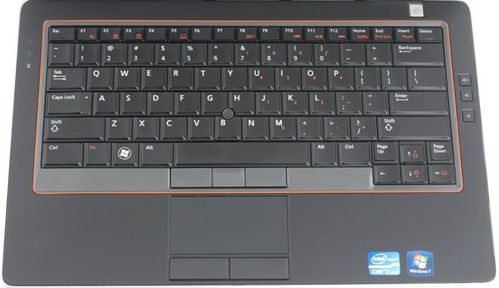 The E6320 has a mix between a traditional and Chiclet/island-style keyboard. The keys aren't exactly flat; they're raised a little and curved, but spaced a bit apart to help with key throw. The keyboard is excellent to type on with amazing key travel and tactile feedback. It's also spill resistant to help ease your mind while drinking or handling liquids around the office. In the center of the keyboard is a pointing stick/TrackPoint. The only downside of the keyboard is that you can hear the keys while you type (if only just barely). Dell included a backlit keyboard option that lights up in a white-blue color for an extra $49.
The Alps Electric touchpad is very responsive and has a matte surface. The touchpad was great to use and there's no difference in responsiveness when there is moisture on your fingers. You can hear the touchpad buttons when you press them, but the sound is far from loud or obtrusive. If you go into Dell's touchpad software, you can enable the "flick" and "quick launch" multi-finger gestures, as well as other gestures such as scrolling and zooming.
Heat and Noise

The E6320 has one exhaust vent on the left side and one larger vent on the bottom. It averaged 84 degrees Fahrenheit across the top of the notebook and 89 degrees on the bottom. Its highest temperature reading was 97 degrees; taken on the bottom right corner. These readings are generally average - 97 is a little high, but while it's definitely not hardware-melting high, it won't be lap-friendly while under exertion (i.e. while watching a fullscreen movie). The low buzz of the fan can definitely be heard while the notebook is under intense pressure, but on the flipside, it won't be heard at all when smaller office tasks are being performed.
Battery Life

During our battery life test, we select the Windows 7 "Balanced" power profile, turn the screen brightness down to 70%, turn wireless on, and refresh a text-heavy web page every 60 seconds. The E6320 lasted 6 hours, 33 minutes during the test. This length of time is very good by business notebook standards.
Conclusion

The Dell Latitude E6320 is a solid office choice. Its main talking point is its durable construction that can protect against some liquid spills on the keyboard, extreme temperatures, vibrations (hard drive protection), dust, and high altitudes. The screen hinges, display, and chassis are all strong, too - they're made out of Dell's "Tri-Metal" support structure that's been MIL-STD 810G approved. Other than its construction, it proved to be able to multi-task well, run 1080p video just fine, and it was also very fast to boot up and in application execution. Moreover, it provided a good 6 and a half hours of battery life, which will definitely make working while traveling doable.

The areas in which it lacked were its screen display, port selection, and hard drive performance. The display has both a low resolution and contrast, leaving the viewer underwhelmed while using it. We would have also liked to see more than only two USB 2.0 ports - users shouldn't have to buy a Dell docking station to plug all of their accessories and gadgets into the notebook.