Dell Latitude E5410 Review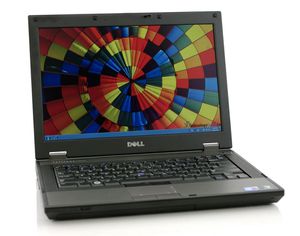 The Dell Latitude E5410 is a 14.1-inch business notebook with an affordable $809.99 starting price. The E5410 is a step above the Vostro 1014 with a greater focus on business needs, but priced lower than the Latitude E6410. Read our full review to find out what we think of this new notebook.

Build and Design

The Dell Latitude E5410 looks a lot like its bigger brother the E6410, but with a plastic shell instead of metal alloy. This notebook is for Dell what the lower-priced R-series ThinkPad is for Lenovo. It gives businesses another option, with a greater business focus, over the standard consumer-oriented models. From a design standpoint the E5410 looks a lot like the E6410, but with a plastic body. The design is very business, with black and grey panels, squared off edges, and a pointing stick located on the keyboard. Dell kept the look and feel almost exactly like its E6410, instead of giving it the routine of most small-business notebooks which look or feel much cheaper.

Build quality is very good considering the entire body is made of plastic. The chassis has some increased flex compared to the E6410, but it isn't noticeable unless you are really gripping the notebook hard. The plastic screen cover gives some protection to the display, but we found that under some circumstances, tapping or pressing on the cover created LCD distortions. The screen hinges felt solid pivoting the screen forward or back, and one in position kept the screen in place without wobble. The keyboard and palmrest section of the notebook felt sturdy under pressure, with only mild flex noted directly above the optical drive. Overall we were pretty impressed by the build quality of the Latitude E5410.

Users looking to upgrade the Latitude E5410 very easy to upgrade through a single panel on the bottom of the notebook. The panel comes off after removing a handful of screws and carefully unlatching a number of plastic catches. Once off you gain access to the processor, memory, wireless card and hard drive.

Keyboard and Touchpad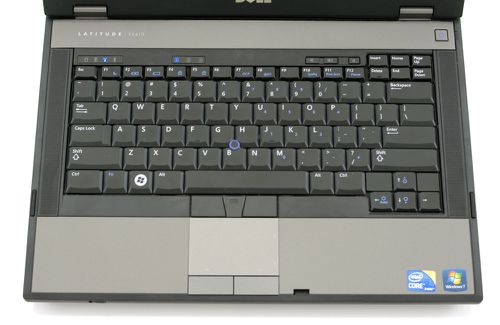 The keyboard on the Latitude E5410 is the standard style and very comfortable to type on. Dell stuck with a normal or non-Chiclet style keyboard, basically copying what they use on the higher levels of Latitude notebooks. The keys are soft-press and give off very little noise while typing. The layout includes all function keys, with an additional row for the insert, home, and pageup keys so they don't have to be wrapped along the right side of the keyboard. The keyboard also features an integral pointing-stick with a three button control directly beneath the keyboard. Generally speaking outside of the ThinkPad-series you don't really find both touchpads and pointing sticks on lower-end business notebooks.

The touchpad is an ALPS model which is surprisingly good compared to past models we have used on Dell notebooks. Response time times were great with very little lag noticed in our tests. Sensitivity was perfect out of the box, although occasionally tap and drag events caused some selected items not to release. Acceleration speeds on both the X and Y axis were equal, meaning circles drawn on the touchpad were circles on the screen, not ovals. The touchpad included a standard left and right mouse button, while the pointing stick above included three, with the middle one used for scrolling. All of the buttons were long-throw buttons with soft feedback and a quiet press.
Screen and Speakers

The Latitude E5410, like many business notebooks, includes non-glare matte-finish display. The screen rated average compared to most business notebooks in terms of color quality and contrast. Screen brightness was also very good for some outdoor viewing and using the notebook in brightly lit office conditions. Using our Gossen light meter we measured a screen brightness of 336 nit at full brightness and a contrast ratio of 142:1. Black levels were average, with an even consistency and no bleeding around the edges. One thing we really enjoyed about this screen was its step above standard resolution, coming in at 1440x900. For the average user this translates into more real estate space for viewing webpages or juggling more than one document open at the same time. This particular screen was an added option over stock, but at $50, it would be considered well worth it.

The speakers are located on each side of the keyboard, identified by the long speaker grills about 6" tall. In our testing the speakers were more than adequate for VOIP calls, listening to streaming radio, or watching the occasional movie on NetFlix. Compared to some of the higher-end consumer notebooks they fell behind, but for business notebook speakers they were all right. The notebook also featured headphone and microphone outputs, but no digital audio out, usually found on systems with HDMI out. As a pure business notebook the Latitude E5410 only comes equipped with VGA-out which is widely used on projectors.

Ports and Features

You can tell off the bat that the Dell Latitude E5410 is business-oriented from just looking at the port selection. The system offers four USB 2.0 ports, FireWire400, headphone and microphone jacks, Ethernet, and VGA-out. If this notebook was more consumer focused, chances are pretty high that the VGA port would be replaced with an HDMI port for ease of connectivity to multimedia equipment. Instead this system is designed to cater to businesses, which still have a ton of VGA-only projectors.

One way Dell caters to the business clients who purchase this notebook is offer a few business perks. This system can be configured with either an ExpressCard/54 slot or PC-Card slot, giving businesses the option if they might still use older devices in their systems. The other perk is the docking connector on the bottom, giving native connections for video out among other things, instead of having to use a slower USB-connected dock.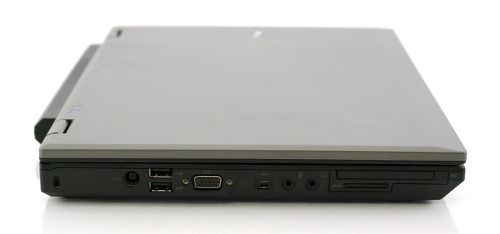 Performance and Benchmarks

The Latitude E5410 offers a wide range of processor options, spanning from the Core i3 370M to the Core i7 620M. Users are limited to integrated Intel GMA HD graphics, but that was expected given the lower starting price of this model and the small-business target market. All but the base model E5410 includes a 7200RPM hard drive, which is great for low access times, although no SSDs were offered as an upgrade option. System performance was very good thanks to the Intel Core i5 520M processor clocked at 2.4GHz in our review unit. Our model also included 3GB of RAM and a 32-bit version of Windows 7 Professional.

For day-to-day usage the system performed flawlessly, handing everything from typing documents, browsing the web, or playing the occasional flash game. Multimedia performance was also pretty good, with the processor and GMA HD integrated graphics being able to decode 720P and 1080P video locally and streaming HD video from sites like YouTube without stuttering.

Heat and Noise

With lower power usage and fairly basic system components the E5410's cooling system was barely stressed during our review. Under normal conditions the case temperatures barely crept above room temperature, while under stress some areas jumped, but stayed well within comfortable ranges. Fan noise was also minimal under stress and silent when the computer was sitting idle. The temperatures shown below are listed in degrees Fahrenheit.

Dell Latitude E5410 Battery Life

The Dell Latitude E5410 is sold with two battery options; a flush 6-cell battery and an extended 9-cell battery. Our review unit included the later of those two options, with a total capacity of 85Wh. In our tests the Latitude E5S410 was pretty conservative running off the battery, showing a discharge rate just over 10 watts of power. In our battery test with the screen brightness reduced to 70%, wireless active and refreshing a webpage every 60 seconds, and Windows set to the Balanced profile the E5410 stayed on for 5 hours and 46 minutes. Expect about three to four hours on the stock 6-cell battery.

Conclusion

Overall the Dell Latitude E5410 has a lot to offer if you don't need the features or semi-rugged build quality of the more expensive E6410. With the plastic body and budget-oriented parts configurations, Dell is able to have a much lower starting price on the E5410, coming in with a base sale price of $519 right now. This system is targeted directly at small and medium business, who want a step up from the current Vostro notebooks, but still might not need the features of a high-end business notebook. If you were cross shopping between brands, this notebook would line up with the ProBook-series from HP or the R-series ThinkPad from Lenovo. If you want the look and feel of a business notebook, but not the high price tag, the Latitude E5410 is really worth your time to check out.