Dell Alienware M11x R3 review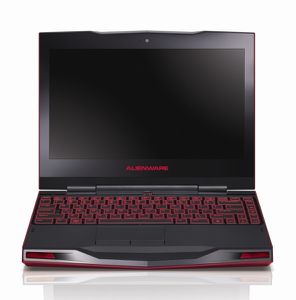 Alienware is pretty much as distinctive a computer make as you can get, and unsurprisingly the M11x R3 laptop is something of a looker. It's small but perfectly formed, with curved lines, a sleek black finish, and the usual alien heads adorning the back cover and power button.

Light fantastic

Not only can the backlit keyboard have its colour altered, but also the colours of the lights on the front of the notebook can be customised, as can the Alienware logo beneath the display. We went for neon green as the main colour scheme, with the Mars red theme set against it. There's a fair palette to choose from, where aesthetically speaking, this is one very neat computer.

The machine's other striking feature is its small size. The M11x R3 measures 11 by 8.5 inches with an 11.6 inch display, although it's fairly thick and reasonably hefty for its size, it still has a reassuringly solid build. However, we wouldn't call it heavy at 2 Kilograms, as it's still perfectly portable despite being a little on the weighty side.

The M11x is the cheapest of the Alienware portable range, with the base model starting at £599. Granted, that basic spec is spread a little thin when it comes to the processor and memory. Gamers will definitely want more than 2GB of RAM, and a faster engine than the Core i3 2357 1.3GHz processor on offer. Stepping up to 4GB and a Core i5 2467M using Dell's online configurator, only pushes the price up to a still relatively budget friendly £749.

The machine we received for review was the top of the line specification, tipping the scales at £1600. Predictably enough, it's a beast. There's a Core i7 2637M processor on board that runs in at 1.7GHz (with turbo to 2.8GHz), with 6GB of system memory and a GeForce GT540M video card with 2GB of dedicated RAM. The icing on the cake is a 2.5 inch Samsung solid-state drive, with the capacity of 256GB.

Quick boot

The SSD is the reason the Alienware laptop boots from cold to the desktop in twenty seconds flat, with an equally snappy performance under Windows 7 and when loading games. The downside is there's only 195GB of free space for those ever increasingly large game installations, but that's still a palatable amount.

Gaming is performed at the display's maximum resolution of 1366x768, with decent horizontal viewing angles but slightly weak on the vertical. This is a common issue that we've seen with the glossy and reflective screens, which is a favour in portables of late.

Benchmarks proved the laptop to be fairly nippy when it came to frame rates. The M11x R3 recorded an average of 45 fps (frames per second) under our Stalker: Call of Pripyat benchmark, running at ultra-detail levels. Wheeling out the Black Death benchmark from IL-2 Sturmovik: Cliffs of Dover, which is tough test on the visual processing power, the notebook recorded an average of 26 fps on medium details and 22 fps on high.

Those numbers might sound a little low, but that's a solid performance considering the intensive nature of that particular benchmark. There are a couple of other points gamers should take note of; namely, the fan gets a tad noisy when detailed visuals are running at full pelt. Also, there's no optical drive on board the M11x R3, due to space issues and keeping the laptop compact where gaming streaming services would be ideal here.

However, there's a good range of ports nestled on the side of this machine, with an HDMI port, DisplayPort, Firewire, ethernet, multi-card reader, USB port and two USB 3.0 ports alongside headphone and mic jacks. A 2 megapixel webcam has also been fitted, in the regular place of just above the screen.

Plentiful juice

The laptop's touchpad is nice and responsive, particularly the buttons, and the backlit keyboard is not just pleasant to look at, but also pleasant to type with. Finally, the machine's battery life is excellent, lasting for around nine hours on light Windows use.

When you fire up a game, naturally those figures diminish considerably. However, even when playing visually intense games non-stop, the M11x R3 lasted for two and a half hours – all of which is a pretty good mobile gaming session.

While it's clearly an impressive laptop from an overall perspective, much of the worthiness of this latest incarnation of the 11 inch Alienware boils down to its configurable options. Our review model isn't great value for money, due to the fact that the SSD adds some £500 to the asking price, making it wallet wrenching to say the least.

Sure, the SSD adds some lovely snappiness into the mix, but that's a massive premium you're paying. Unless money is no object, we would advise configuring a cheaper base spec – using a standard hard drive and Core i5 processor – to get the most bang for your buck.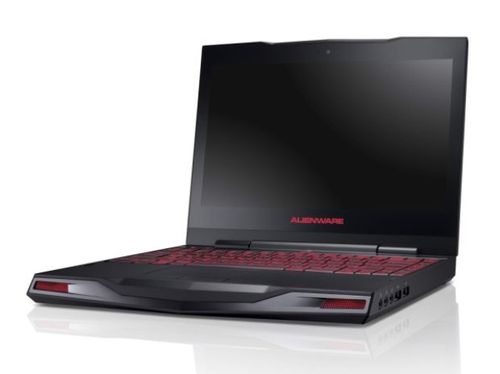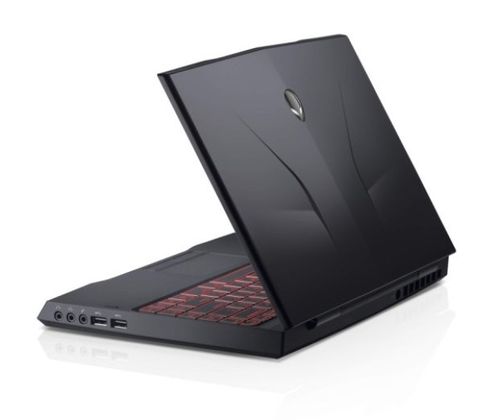 Verdict
The top-end M11x R3 that we reviewed is somewhat hampered by the high premium Dell has added for the SSD, making it overly pricey. However, the mid-range models – where the spec can be customised via Dell's online configurator – offer much better value for money. Overall, the M11x is an excellently built and stylish gaming notebook that is genuinely portable, with a great battery life. If you're buying a mid-range M11x R3, minus the SSD and Core i7, then you can safely notch the value for money and overall score up to 4/5.